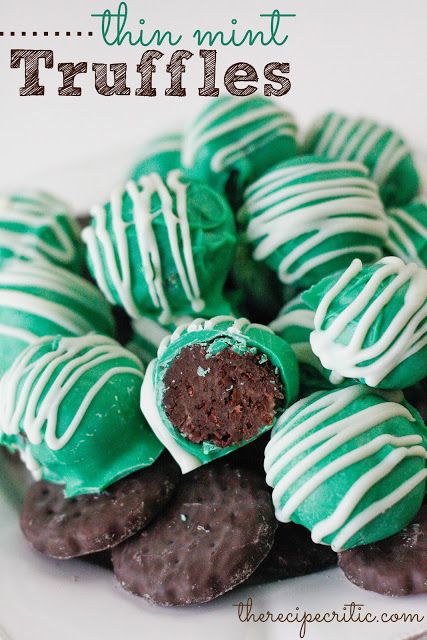 Thin Mint Truffles
---
If you like Girl Scout Thin Mint Cookies then you are going to love Thin Mint Truffles.  These easy to make Thin Mint Truffles would be great for St Patrick's Day or any party gathering.
Ingredients:
1 9 ounce package thin mint girl scout cookies (or Keebler grasshopper cookies)
1 package cream cheese, softened
1 (12 oz) Bag Guittards Green Mint chips (or green candy melts)
5 oz white chocolate chips
1.  In a food processor pulse the thin mint cookies until they are fine in consistency.
2. Blend together crushed thin mint cookies and softened cream cheese.  You can mix them by hand, or I used my Kitchen Aid mixer.
3.  Roll the mixture into tablespoon sized balls and set on a cookie sheet lined with parchment paper.  Allow them to chill in the fridge for a couple of hours to harden.  This will make them easier to roll in the melted chocolate.
3.  Melt the green mint chips in the microwave stirring 30 seconds at a time being careful not to overcook.  Roll the balls into the melted chocolate to coat and place them to harden on a baking sheet lined with parchment paper.
4.  For the white chocolate drizzle, melt the chocolate 30 seconds at a time until melted.  Spoon the melted chocolate into a plastic baggie and cut a tiny slit in the corner and drizzle the chocolate over the top of the truffles.  Store the truffles in the fridge until ready to serve.