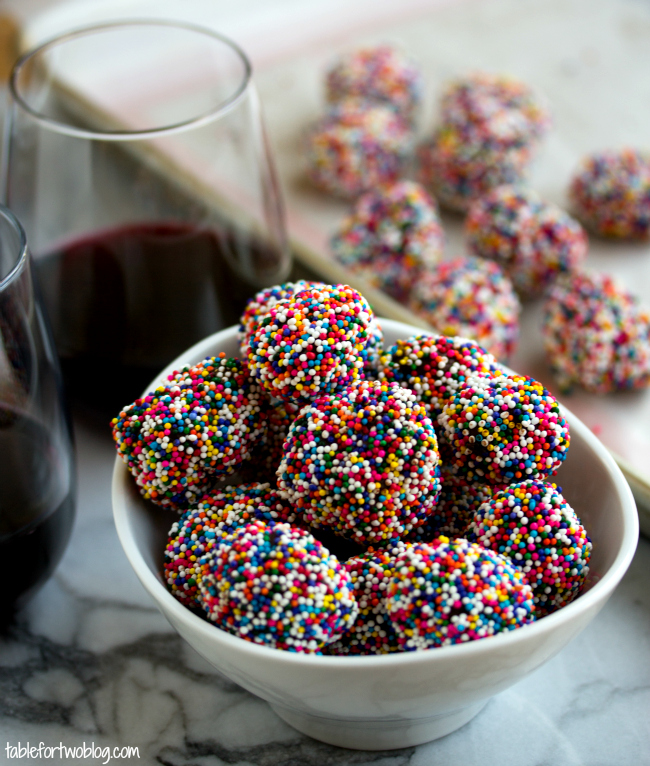 Chocolate Boozy Truffles
---
I feel like I have been on a little bit of a "booze"  kick lately blogging about a Bloody Mary Bar, a Mimosa Bar and now Chocolate Boozy Truffles.  But I couldn't resist.  Be forewarned.  These boozy truffles are really rich but really good.
Ingredients:
2 cup chopped dark chocolate
1 cup heavy whipping cream
4 tbsp. red wine
1 cup sprinkles
Instructions:
In a small pot, bring the heavy whipping cream to a boil.  Remove from heat and pour over the dark chopped chocolate.  Let it stand for 3 minutes and then whisk together red wine and chocolate mixture.  The mixture should be thick and smooth.
Cover with saran wrap and pressing it onto the chocolate mixture. Let it chill in the refrigerator overnight.
When ready to assemble, remove the saran wrap from bowl.  Using a melon baller scoop the chocolate out, form into a ball with your hands and then roll around in the sprinkles.  Place on a baking sheet with lined wax paper.
Refrigerate baking sheet for at least 30 minutes before serving.
Makes around 50 balls.  Enjoy
Thank you Tablefortwoblog.com for the great recipe.
Do you have a favorite "booze" recipe?  Please share!